Just recently, The Economist published a video on their website about how the Chinese Communist Party (CCP) uses artificial intelligence to maintain its centralized rule. The video is entitled: China: Facial Recognition and State Control.
The video portrays how the CCP, under the guise of decreasing the nation's crime rate, is using face recognition technology, in combination with different monitoring methods, to exercise stricter control over the Chinese people, suppressing those who criticize the CCP and hold different faiths than those allowed by the CCP.
China's social credit score system
The Chinese regime has also set up a social credit score that uses a number of types of monitored information about how its citizens behave to determine to which degree someone is creditworthy. 
When Liu Hu, a Chinese journalist, told CBS News in an interview about the consequence of misconduct, in the eyes of the CCP: "I can't buy property. My child can't go to a private school," he said. "You feel you're being controlled by the list all the time." When he allegedly tried to book a flight, he was told that he is banned from flying because he was on the list of untrustworthy people.
When is a journalist who was recently ordered by the court to apologize for a series of tweets he wrote? After handing in his apology, he was told that his apology was insincere.
Skynet is not sci-fi in China
The list of Chinese who have found their way onto the regime's black-list is growing by the day. Some speculate that community service and buying Chinese-made products can raise your score, while fraud, tax evasion, and smoking in non-smoking areas can drop it. Remember, all this is monitored, among other things, by cameras linked to a nationwide central surveillance system that is not only capable of recognizing your face, but also holds a great deal more information about your behavior and habits in daily life.
What makes China's surveillance system, also known as "Skynet," so unique is that is has incorporated artificial intelligence, face recognition, and GPS tracking to overlay information that can even identify people in cars, in real time.
The system knows who is who because most Chinese people receive a National Identification Card at a young age, so their data is stored in the CCP's database. This makes it easy to tag and track people with the aforementioned surveillance system. In order to better control the Chinese people and exercise an even tighter regime, more than 176 million surveillance cameras have been installed across the country, and almost 500 million more are to be installed by 2020.
Watch the following video about China's highly advanced surveillance system:
Surveillance via the Internet and social media chats
According to unnamed analysts, the  CCP's means of monitoring and controlling the domestic population goes far beyond the before mentioned. In addition to monitoring the public through the use of surveillance through intelligent video camera systems, social communication services like WeChat, QQ, Alipay, and other applications like this, the CCP also monitors mobile phones, installs crystal chips in ID cards, and collects DNA data, among other pieces of information, on Chinese citizens. According to foreign media, the Chinese ruling party is capable of extending its surveillance-arm into foreign countries.
A real-name system for mobile phones
It was in 2010 that news became frequent about China requiring people setting up new mobile phone accounts to register with their real identities. According to online sources, the government measure was meant to reduce anonymity among mobile phone users in the country.
According to chats between users of public chat forums on the web, the official reason why the CCP initiated the real-name system was apparently to protect the privacy of the public and maintain social security. However, in addition to that, China has also developed a so-called mobile electronic fence system, an example of which was designed for the Guangzhou Baiyun International Airport in Guangzhou, the capital of China's Guangdong Province.
According to Huang Hao, vice-general manager of the Baiyun International Airport, in an interview by Chinese media in 2017, they were designing an electronic fence system to block unmanned aircraft from posing a threat to the airport. If a drone were to approach the airport, entering a specific shielded radius, the electronic fence would disturb the drone's  Unmanned Areal Vehicle (UAV) system within those airport boundaries, preventing the unmanned aircraft from flying into sensitive areas.
It is widely known that Chia's state-media outlets are told how to promote the CCP's outward narrative by validating its propaganda. It wouldn't seem hard to understand why the UAV's deputy secretary-general of Shenzhen UAV Industry Association would express that he calls for strengthening law enforcement and establishing the real-name registration system for UVA pilots to ensure the safety of airlines.
According to other sources, the so-called electronic fence system also comes with the convenient function to wirelessly shield and control communication within a specific range, apparently with the goal of electronically monitoring certain people or groups of interest in the Chinese population. Critics complain that mobile phones have made the Chinese people transparent, leaving them with no privacy at all.
Second-generation ID card
In a move to further enforce its so-called "electronic fence system," the Chinese regime began enforcing its second-generation ID card in 2013.  This new version ID card in China came with a radio frequency identification (RFID) technology belonging to the ID card type. The chip is virtually hidden inside the ID card material and can only be seen in front of a strong light.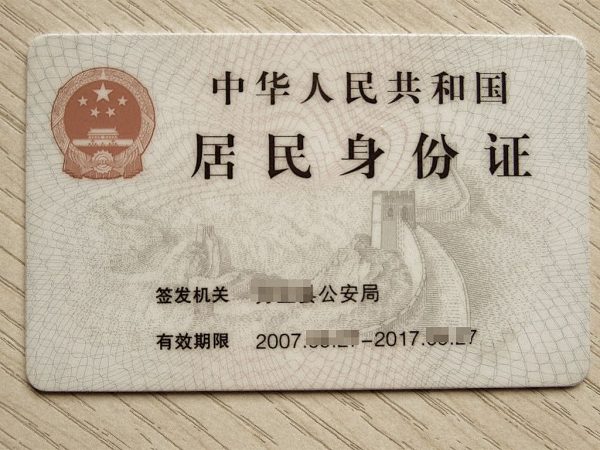 The four sides of the ID card function as antennas for the RFID tech, capable of storing personal information, including names, photos, and other related personal information. According to online media, China even wants to track its citizens' cars with mandatory RFID chips.
The worlds largest DNA sample bank
Furthermore, the CCP collected DNA samples and other things on a large scale. According to a CNN report, authorities in China's far-west were collecting DNA samples, fingerprints, eye scans, and blood types of millions of people aged 12 to 65. The information was apparently passed on by a new Human Rights Watch (HRW) report at that time.
This is not a common practice for governments in the international community. In the U.S., for example, regulators only allow law enforcement officers to collect DNA samples of people arrested for a series of crimes (in some states, only DNA samples from convicted people can be collected). Those critical of China's dealings complain that China, under the CCP's rule, indiscriminately collects DNA data, making no exceptions.
Furthermore, the CCP also collected large-scale DNA samples from the entire population and established the world's largest DNA database. 
Linked to forced organ harvesting
Zhang Lin, a well-known democracy activist, was once detained by the CCP. He said: "The detention center often performs blood tests on the people in custody. A senior prisoner once told me that the purpose of frequent blood tests is terrible — looking for suitable organs for high-ranking officials. When all aspects are appropriate, they will increase his penalty to death and take his organs."
Every move of the 1.4 billion Chinese citizens is under the tight surveillance of the CCP. Once someone has published relevant comments about sensitive topics, the CCP will immediately know about it and take action.
For light punishment, a teacher can be fired and a student can be expelled. Ordinary people will be invited to drink tea with officials. For heavy punishment, they will be detained or go to prison and possibly be subjected to torture and organ harvesting.
Network monitoring and the big firewall
Many people know that in order to strengthen network monitoring, the CCP blocks certain words. Recently, news media reported the Google has been tracking "banned words" for its censored Chinese search engine. The CCP provides a blacklist of 12,000 sensitive key-words that are banned from being searched for in China  — these include "freedom," "democracy," and "organ harvesting." Any future URLs that use the vocabulary on the blacklist will become banned pages.
Spyware on smartphones and in chat-apps
The CCP's spyware inside WeChat, QQ, and Alipay apps all have a mechanism for collecting information from overseas Chinese. This spyware even allows an agent to remotely control the phone or remotely listen in on the user's words. The CCP has also developed its own software to control overseas people. According to an unverified source, a CCP policeman once threatened a Falun Gong practitioner in the United States, telling him: "We even know how often your dog barks at home."
Not so long ago, foreign media exposed that the CCP has public opinion detection software. Every comment made by the 591 million Chinese "netizens" is analyzed at the People's Daily Online Public Opinion Monitoring Center, with summaries sent in real time to Party leaders.
Apparently, this software system can detect sensitive information on thousands of overseas websites, including those in Hong Kong, Macao, and Taiwan, and filter information in more than 50 languages. The system has 18,000 public opinion monitoring bases in China that can monitor more than 8,000 foreign-related information websites in Hong Kong, Macao, and Taiwan. Most people living in an environment of total surveillance are silent, but unhappy, about it.
Translated by Yi Ming
Follow us on Twitter or subscribe to our weekly email