A talented genius with a disappointing official career, Tang Yin (1470-1524) was a keen traveler who lived during the Ming Dynasty. He had been to famous mountains like Zhurong Peak, Mount Lu, Mount Tiantai, and Mount Wuyi. He loved water too, and went to the east to watch the sea and to the south to cruise on Dongting Lake and Poyang Lake. As talented as Tang Yin was, he lived a poor life and made a living by selling his own paintings. Nevertheless, he was not disheartened. In a poem titled Disclosure of Will, he wrote:
"I pursue neither like a Taoist priest for longevity nor like a Buddhist monk for enlightenment. I neither trade like a merchant nor farm like a peasant. I only paint in my free time and sell my paintings. That way, I stay clean from spending evil money."
How many can be like him, with such strength of character as well as brilliance of expression?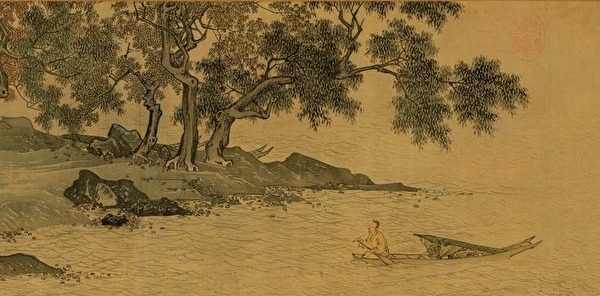 Tang Yin experienced two major setbacks in his official career, both of which left him in total despair. One incident was an unwarranted imprisonment that came about from a candidate cheating in an imperial examination and then wrongly implicating him. The second was his recruitment by the Prince of Ning, which he did not know was for a planned rebellion to overthrow the Zhengde Emperor. Tang Yin faked insanity when he knew of the plan to avoid being involved.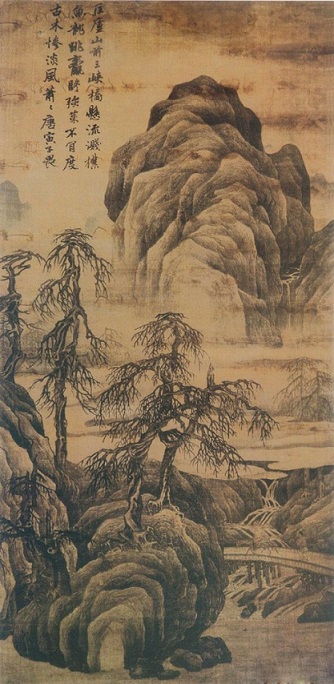 After Tang Yin slipped away from the unwanted political turmoil, he took the sea route via Poyang Lake to return to his hometown, Suzhou. He visited Mount Lu on the way and lost himself in the splendor of the mountains. He somehow felt it was different from his other trips to mountains and rivers. He climbed Mount Lu full of emotion and hoped to be cleansed by nature's perilous peaks, lofty ranges, steep waterfalls, and clear springs. When he dropped by to see his friend in Anhui after the trip, Tang Yin painted Mount Kuang-lu there and inscribed it:
"By the Sanxai Bridge of Mount Lu, water falling from high above splashes onto the stream startling fishes and makes them jump; I refuse to comply with the non-legitimate, like the miserable placid old trees made to endure the fierce blowing of strong winds."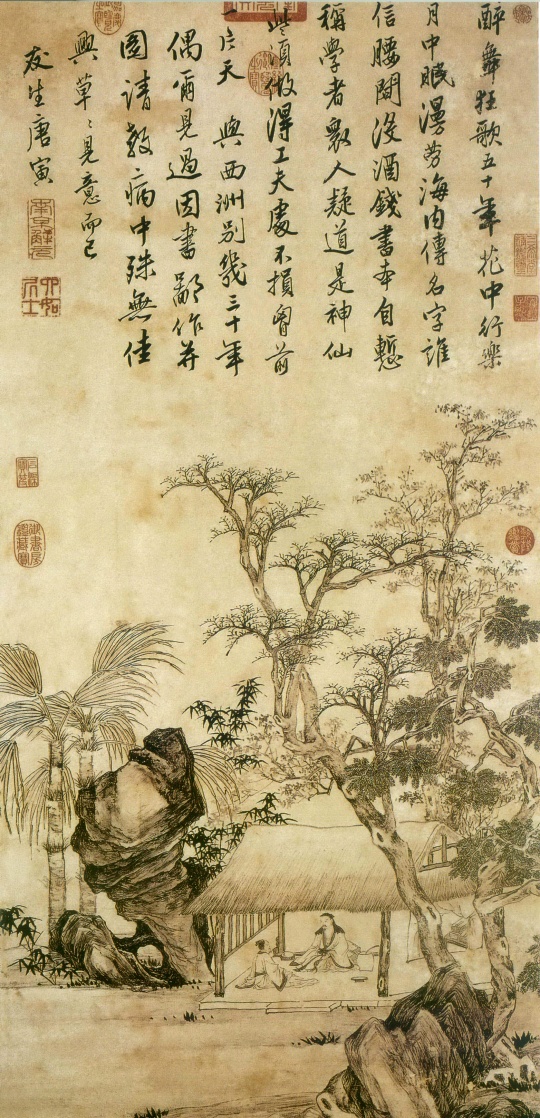 Emotions and feelings cannot be imagined but have to be experienced and come from the heart. It can be said that those experiences have enriched and nurtured the form and substance of Tang Yin's painting world. His travels were therefore not just killing time or for having fun. They were closely related to his artistic creation.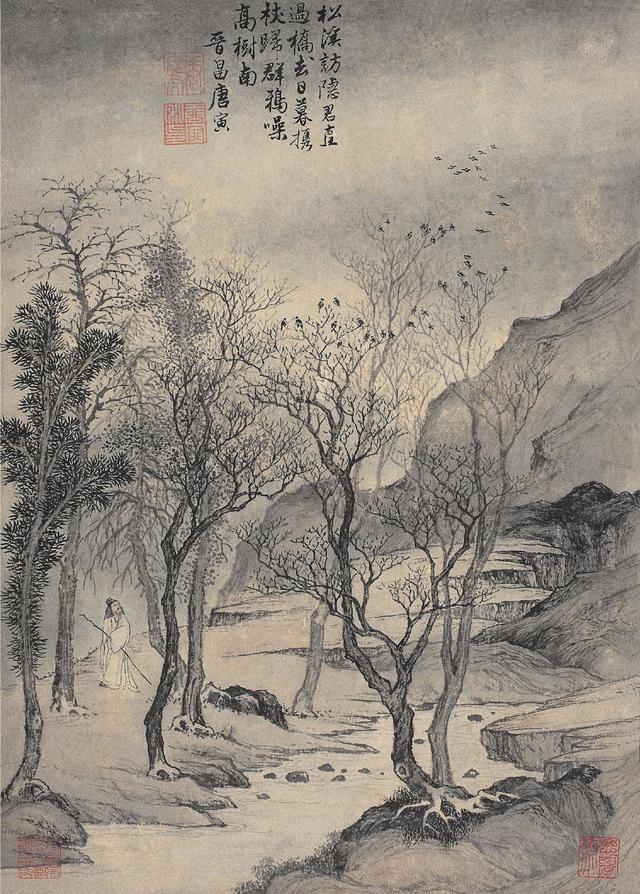 Tang Yin's paintings are like nature itself. One main reason for that is he spent much time soaking in nature through his trips to majestic mountains and awe-inspiring waters. Being baptized by nature, he lived in it and it lived in him. As another well-known all-around genius, Su Shi of the Song Dynasty, described that Tang Yin "knew what to do in his mind" because he had it in him and could make whatever changes to accommodate, like the addition of a passageway or a bridge, the embellishment of a pavilion or a humble cottage, the change of season or weather… His paintings became as diverse as his mood and mind were.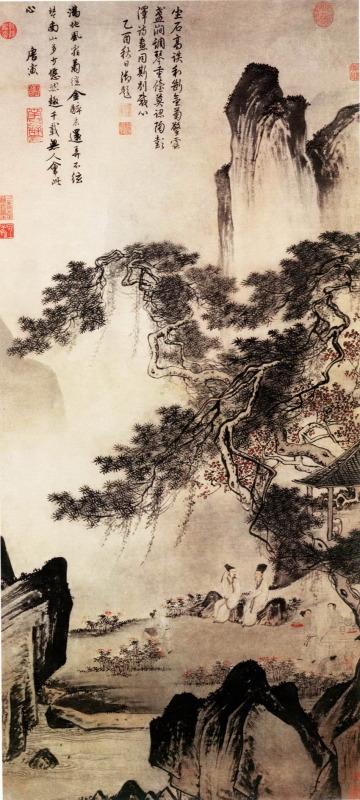 Tang Yin told different stories in different paintings; the company of a book boy on a steep mountain path; the enjoyment of sitting by the water to hear the rushing falls; the intimate small talk in a humble cottage; the leisure of drinking tea while playing chess; the walk alone along a stream; the playing of a zither by the shore… Nevertheless, Tang Yin told the most spectacular event that was his own story. He told of his feelings and mind through his paintings and the kind of life he yearned for — one that was quiet, carefree, and away from people.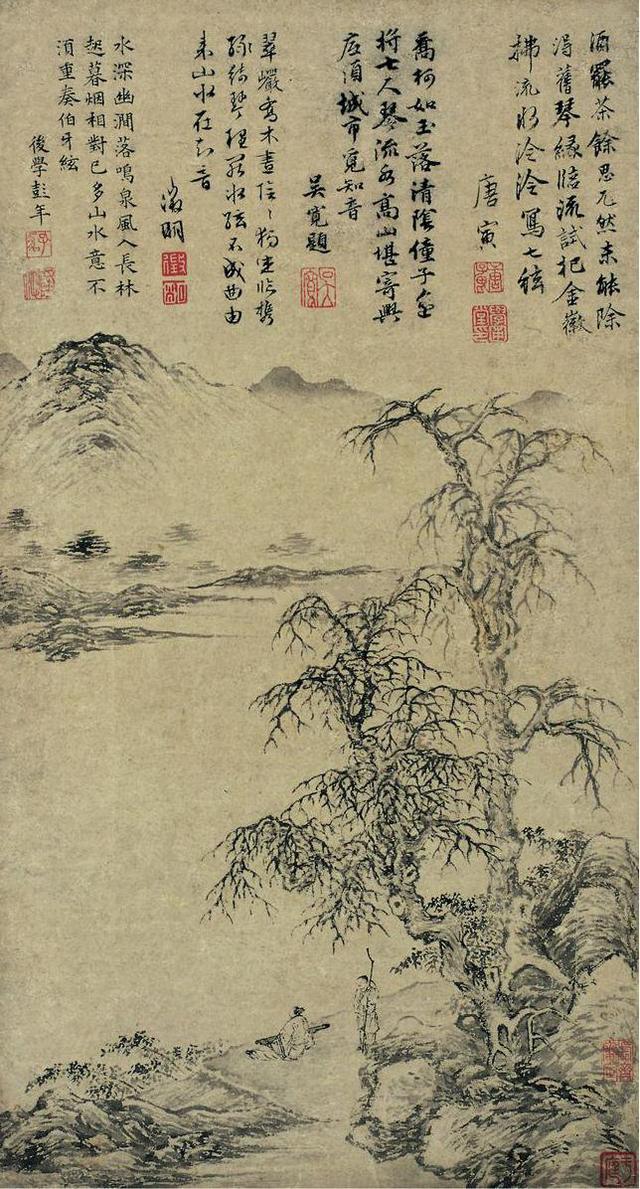 Tang Yin's landscape works include: Companions in the Spring Mountains, A Humble Pavilion in Evening's Chill, Thatched Huts Under the Apricot Flowers, Whispering Pines on a Mountain Path, Picking Lotuses, Autumn Mountains, Misty Trees at Zhenze, Landscape (handscroll), Farming in Jiangnan, Fishing in Reclusion on a Flowing River, Watching Over Fields, Clearing After Snow at the Han Pass, Parting at Jinchang, and Reminiscing with Xizhou.
Translated by Cecilia
Follow us on Twitter or subscribe to our weekly email