A Chinese university student wears traditional Chinese "Han" clothing every day. His hope, is to someday find the right girlfriend who also likes it.
Kang Wei is a second-year student at Southwest Petroleum University, and he has been dressing up in this unique way since November 2016. That's more than 300 days straight.
Kang's unique way of dressing first gained wider attention after it was reported on in his university's student media, and it was later reported on by local Sichuan media.
The student says that he is a faithful "Han" costume lover. He even wears it on the campus on rainy days, using an oil paper umbrella to stay dry.
He told news media that not only does he wear the Han costume daily, but it has become a part of his life. To him, it is not only something traditional, but he believes one should not throw away things handed down by one's ancestors.
Reviving traditional Han clothing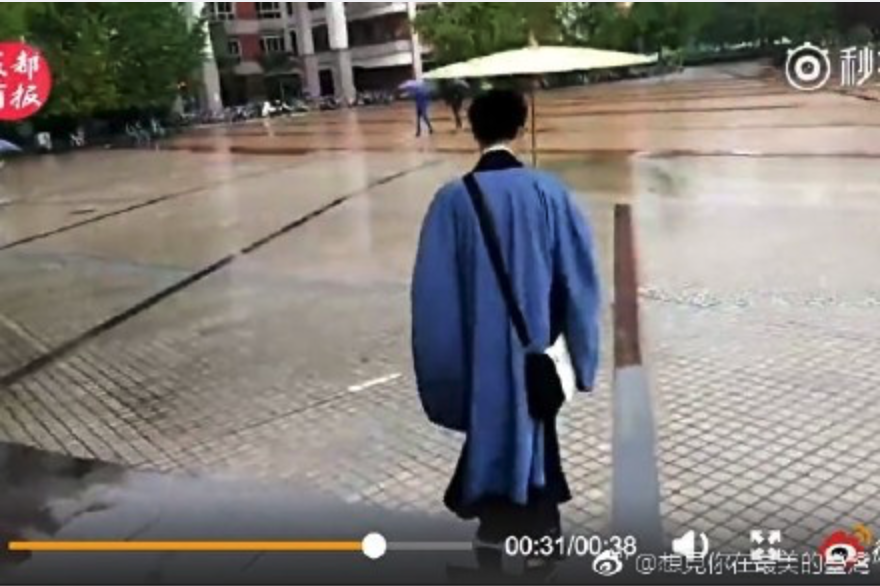 There is more to the Han costume than meets the eye. In terms of fashion and functionality, Kang claims the Han costume is "light and easy, heaven and man become as one." He wants more people to have a basic knowledge about this traditional clothing, acknowledge it, and accept this form of traditional dress.
Kang first came into contact with this traditional clothing during his summer holidays in 2012. A year later, his parents gave him a set of light blue "straight garment," which was popular during the Han Dynasty.
Then, in 2016, Kang decided to wear the Han costume every day, except during certain activities and sporting classes.
Something to get used to
At first, he felt awkward when people stared at him and gave him strange looks. But gradually, he became accustomed to his outfit.
Kang hopes he can continue to wear his costume, even when he goes out, and that his "future girlfriend can accept it."
At present, Kang has more than 20 sets of Han costumes and different accessories. Among these are four sets of winter and summer costumes, as well as seven sets of spring and autumn, costumes.
Han costume and its history
The Han costume is a traditional form of dress of the Han Chinese, dating back to the beginning of the Western Zhou Dynasty (c. 1046 BCE) stretching all the way to the Ming Dynasty (c. A.D. 1368-1644).
It has a heritage of about 3,700 years. The Han costume has some distinct features, like a "collar crossing from the left, long loose sleeves, a hidden buckle, and a blouse at the top with a skirt at the bottom."
It is said that when wearing traditional Han clothing, a man looks gentle, while a woman looks graceful.
See a Sichuan second-year university student who wears traditional Han clothing every day for the original Chinese article.
Translation by: Chua BC
Follow us on Twitter or subscribe to our weekly email