Attracted by Shen Yun's reputation, Pan Zhihang, Director of the International Religious Music Station in Taiwan, and his family attended the classical Chinese dance performance at the Tainan Cultural Center in southern Taiwan on March 11.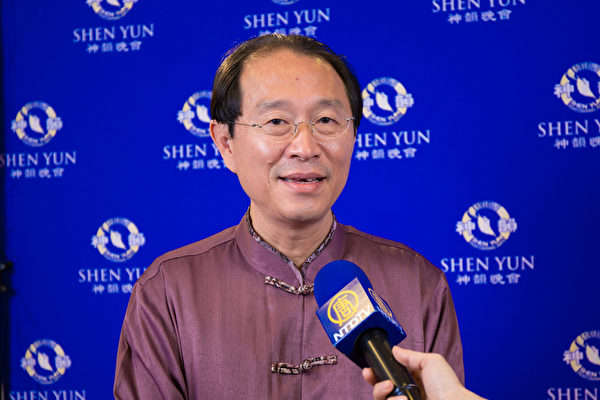 Zhihang loves to explore Chinese religious philosophy and music, and has traveled to Tibet twice. After seeing the Shen Yun performance, he was fascinated by the superb dance presentations with their rich moral connotations. Zhihang said:
"Shen Yun emphasizes the harmony between human and nature. It's not simply a dance and drama show, but a musical performance inspired by the divine. [It was like] the sounds of nature that can cleanse our hearts. They are the demonstration of the power of truth. It [Shen Yun] lets us retrieve the pride of all Chinese people."
He further explained:
"Shen Yun is the combination of music, dance, light and sound effects, technology, and audio-visual, which conveys the messages of God and Buddha. It's indeed very touching and inspiring.

"Each piece of the program has its own characteristics, and every dance drama has its historical meanings. The music that accompanied the dance in the first piece of the program deeply touched me to the bottom of my heart."
Please watch this video introduction of Shen Yang Performing Arts:
Pan Zhihang felt that the traditional Tibetan beauty showcased in the "Tibetan Drums" performance was awesome. He never saw such a superb performance and felt that the troupe performed the dance perfectly.
As a music lover and a mental health therapist, Zhihang shared his feeling about the accompanying music:
"Seeing the Shen Yun show, I felt like being cleansed. Shen Yun music is composed of vocal music and music played on a piano, cellos, violins, and other instruments. It's a performance blending Chinese and Western cultures, and is the essence of music therapy of the East and West.

"I am really thankful to Shen Yun for its performance of [the program containing the message of] compassion in a tactical manner, as it can help preserve our precious cultural and historical heritages for Chinese descendants.

"The cultural assets of the five thousand years of traditional Chinese culture should be preserved and further promoted, and Shen Yun has done these good things for all the Chinese people."
Zhihang also found that programs with moral teaching content is of benefit to everyone. He noted that this allows all those who pursue fame and personal interests to learn how to let go of their attachments and to look inward and to follow the course of nature. He felt that Shen Yun's performance is not something temporary, but a show that is deeply rooted in a person's heart. He thought that it presented the cultural essence of Buddhism, Taoism, and Confucianism to the audience.
He further explained why the Shen Yun is of benefit to everyone:
"For those who tend to have the habits of ​​confrontation, prejudice, greed, or selfishness, it [Shen Yun] may help them to change their mindsets, and have a more peaceful mind.

"A very important historical connotation in Shen Yun's dance drama is that truth will definitely transcend time and space to reappear in the human world."
Zhihang urged that everyone should see a Shen Yun performance. He stressed:
"Artists, art lovers, and all state heads, including the leader of the Chinese government, should attend the Shen Yun show, because it is the representative of the power of truth.

"Shen Yun comes from human's hearts, and human's hearts need Shen Yun. Shen Yun's artistic director is indeed great."
Shen Yun Performing Arts has five companies touring over 100 major cities around the world. Shen Yun Performing Arts is currently performing in Taiwan and the United States. It's final performance in Taiwan will be in Keelung City on March 21.
To find a performance near you, please visit the following website:
http://www.shenyunperformingarts.org/tickets
Follow us on Twitter or subscribe to our weekly email