Illustrator Yukai Du was commissioned by TED-Ed to animate a lesson about the study of plant communications by educator Richard Karban. The video, entitled Can Plants Communicate?, explores why and how plants communicate.
Although plants look like they don't have much to say, it turns out they can produce signals in the air or through the ground to communicate with each other. They can also help each other when stressed. It's pretty amazing. Yukai Du's bold, lively illustrations for the video complement the lesson at hand, with the bright feel of a children's story book.
Yukai Du is an illustrator/animator who is originally from China. She graduated in 2014 from Central Saint Martins College in London, and currently resides in Brighton, U.K. She is represented by MP Arts, and some of her clients include The Washington Post, Wired UK, The New York Times, and the BBC.
A recurring theme in Yukai's animations is our dependance on technology, so she probably enjoyed this TED-Ed commission on plant communications.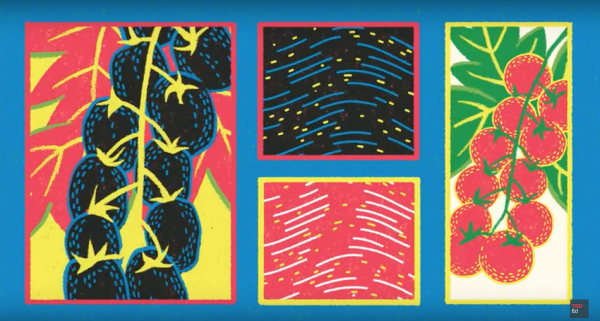 Educator for the Ted-Ed video is Richard Karban, who is Professor of Entomology at the University of California, Davis, and the coauthor of the books Induced Responses to Herbivory and How to Do Ecology.  Jiaqi Wang assisted with the animation work, while composer and sound designer Angus MacRae provided the sound. The script was edited by Eleanor Nelsen.
And with the delightful illustrations by Yukai Du, the learning experience is a real treat.
Please watch the TED-Ed video Can Plants Communicate?:
LIKE us on Facebook, or follow us on Twitter.
Subscribe to our weekly email