In the Bible, the young David threw a stone and defeated Goliath, the giant, which conveys the meaning that courage and wisdom can bring miracles. In real life, two Canadians lawyers, David Kilgour and David Matas, represent the modern version of the David story.
David Kilgour is a former Royal Prosecutor of Canada and a former Asia-Pacific Director of the Ministry of Foreign Affairs. David Matas is a well-known international human rights lawyer who received the Governor-General's Confederation Medal in 1992.
In March 2006, a witness named Anne, along with others, exposed the Chinese Communist Party's (CCP) forced organ harvesting from Falun Gong practitioners. Anne's ex-husband was a doctor in Shenyang and had taken corneas from about 2,000 Falun Gong practitioners. Both David Kilgour and David Matas were invited to conduct an independent investigation.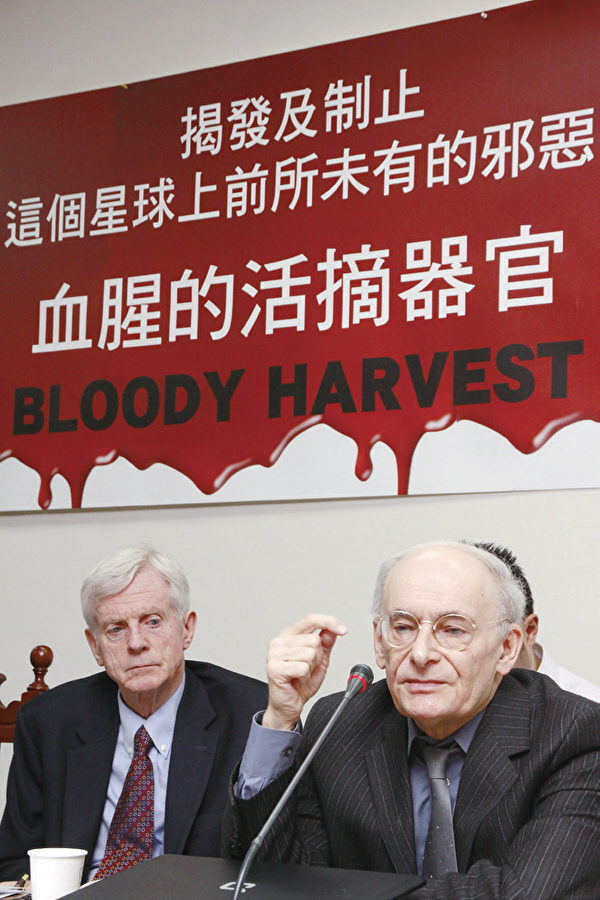 On July 6, 2006, Kilgour and Matas issued a joint report confirming the allegations of live organ harvesting, calling the crime "an unprecedented evil on the planet." Major media in Europe and the United States were competing to report this event. The Davids asked the Chinese authorities for leave to enter China for further investigations, but their application was rejected by the CCP.
The pair co-authored the book Bloody Harvest published in October 2009. In the same year, the Swiss Division of the International Human Rights Association awarded them the "Human Rights Award," and they were nominated for the 2010 Nobel Peace Prize. Matas also won the 2016 Gandhi Peace Prize.
In the past 12 years, Kilgour and Matas have shown no fear of the CCP's threats, have continued to investigate the CCP forced organ harvesting, and have traveled around the world. They have testified before the U.S. Congress, attended numerous organ transplant conferences, and participated in hundreds of meetings all to arouse public attention to stop the CCP's crime of organ harvesting.
Now, both David Kilgour and David Matas are over 70 years old and they are busy day and night, speaking out for the human rights of those whom they have never met. Kilgour said that no government on the earth has killed its own people and sold their organs. David Matas said: "When crimes against humanity occur, we are all victims and should not be silent."
Today, the investigation continues and so does the organ harvesting. The world needs more David's to fight Goliath.
Translated by Yi Ming
Follow us on Twitter or subscribe to our weekly email