The recent earthquake in Indonesia destroyed numerous homes. But one man's courage to save hundreds of people aboard a plane, even risking his own life in the process, is inspiring Indonesians who are scrambling to rebuild their country.
The guardian angel
When employees at the Air Traffic Tower of Mutiara Sis Al Jufri Airport in Palu started feeling tremors, they immediately left the place. However, 21-year-old Anthonius Gunawan Agung decided to stay back. The reason — Batik Air Flight 6321 was still on the runway.
"He gave clearance for this flight, and if he left his post before the plane was airborne, hundreds of people inside the plane might be in danger," Yohannes Sirait, spokesman for Air Navigation Indonesia, said in an interview with ABC News.
As soon as the plane was airborne, the tower started to tremble furiously. Anthonius jumped from the fourth floor of the building to save his life. However, he suffered several internal injuries as a result of the fall. And even though his colleagues got him to the hospital, it was too late. Anthonius passed away while being transferred for better treatment.
Thousands of people honored his sacrifice on social media, some thanking Anthonious for his help, while others praised his bravery. Anthonious has now become a source of inspiration for the people of Indonesia who are facing the difficult task of rescuing people trapped in the rubble and rebuilding their country.
"Thank you for keeping me and guarding me till I'm safely airborne. Wing of honor for Anthonius Gunawan Agung as my guardian angel at Palu. Rest peacefully my wingman. God be with you," Channel News Asia quotes the pilot of the Batik Air Flight 6321.
Rising death toll
As of Tuesday, the death toll from the earthquake and the resulting tsunami stands at 1,234 people according to the country's National Disaster Mitigation agency. Thousands of people are currently stranded without proper access to clean water, food, or medical care. "Following the disaster, roads and bridges have been destroyed, communication lines are down, and landslides have left many areas inaccessible," UN Resident Coordinator in Indonesia Anita Nirody is quoted by ABC News.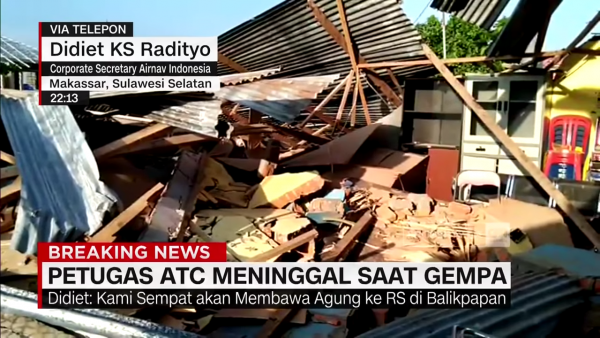 Some regions are experiencing such a shortage of food that people have resorted to stealing from shops. Under normal circumstances, the police would have apprehended and jailed such people. But they seem to have taken a more understanding approach.
A police general even refused to call such acts stealing while talking to local media, and the country's Internal Affairs Minister Tjahjo Kumolo had declared that residents of Palu could take goods from the supermarket and that the government would reimburse the bill to the businesses. And though the police may have turned a blind eye to people who steal food, they are cracking down on thieves who are plundering ATMs.
Around 60,000 people have been displaced because of the earthquake and tsunami. And since rescuers have yet to reach several of the affected regions, experts feel that the final death toll could end up being very high. Various international bodies like the Red Cross have reached the country, volunteering to help affected people deal with the situation.
Follow us on Twitter or subscribe to our weekly email