After Disney announced that they fired Guardians of the Galaxy (GOTG) series director James Gunn because of his offensive tweets about rape and pedophilia, many have surprisingly come to the director's defense. And the most vocal among them has been Dave Bautista, who plays the character of Drax in the GOTG movies.
Bautista's support for James Gunn
When asked about what he would do if Disney refused to reinstate Gunn as the director of GOTG3, Bautista made it very clear that he would only be in the movie as a part of the contractual obligation and not because he had any interest in doing the film.
"I will do what I'm legally obligated to do, but @Guardians without @JamesGunn is not what I signed up for. GOTG w/o @JamesGunn just isn't GOTG. It's also pretty nauseating to work for someone who'd empower a smear campaign by fascists #cybernazis. That's just how I feel," he said in a tweet.
However, Bautista's commitment to the third movie comes with a very specific condition – that Disney uses Gunn's script. If the company decides to change the script somehow, Bautista says he will leave the movie.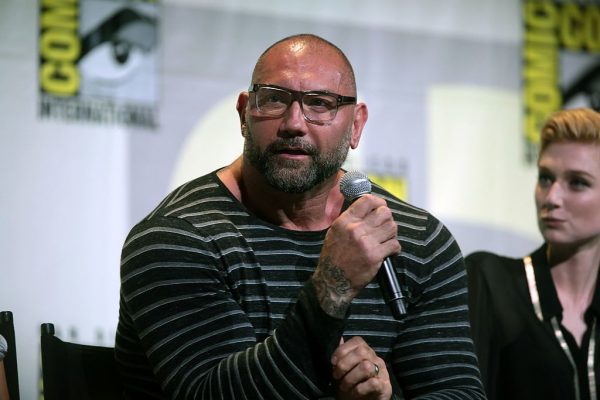 Reason for firing Gunn
Between 2009 and 2012, Gunn made a series of tweets that made crude jokes about pedophilia and rape. A reporter unearthed these tweets and publicized them over the media, questioning why Disney was hiring a person who made jokes about pedophilia.
While some of Gunn's tweets made crude references to pedophilia, others trivialized rape. These were not a one-off and were made over a period of time.
As the subject became a hot topic, Disney wanted to distance itself from the controversy and declared that it was severing its relationship with Gunn, meaning that the director will not be helming the third installment of the GOTG franchise scheduled to start production in 2019. Gunn also issued a statement shortly thereafter highlighting how the tweets were just crude jokes and that he has grown up as a human being since then.
But recently, some pics have emerged of Gunn attending a pedophilia-themed party. When someone continuously makes specific types of jokes and attends related events, the character and mindset of the individual can generally be determined.
The moral problem
In addition to Bautista, Gunn has received huge support from the other cast members of the GOTG franchise, including Chris Pratt, Bradley Cooper, and Zoe Saldana. They also wrote an open letter urging Disney to reverse their decision and warning the public not to character assassinate a person based on a few jokes.
And this also raises a serious moral question — why do the actors, who portray characters loved by millions of kids (and adults) around the world, continue supporting someone like Gunn who has literally tweeted that he likes boys touching his "silly place"?
By supporting Gunn, everyone from Bautista to leading media outlets who are going head-over-heels to justify Gunn's intentions are essentially sanctifying pedophilia. And if the fact that some of the biggest kid's idols are lending support to a pedophile enthusiast does not make you feel uncomfortable, we don't know what will.
Industry insiders are certain that Disney will never rehire Gunn for GOTG3. After all, Disney, being largely a kid-centric entertainment company, will definitely not risk associating themselves with someone who has been accused of joking about pedophilia.
Follow us on Twitter or subscribe to our weekly email