Vision Times spoke to Dr. Jack Jan, Chairman of the Board of Directors and General Counsel of the Taiwan International Business Diplomacy and Academic Culture Association, and Chairman of the Board of Directors of Jieying International Co., Ltd., in an exclusive interview about the SelectUSA Investment Summit and its impact on Taiwan's future development. During the interview, Dr. Jan told us that Taiwan and the United States have actively exchanged views on recent major investment projects in Taiwan and the U.S. And it is clear that Taiwan-US trade relations are excellent.
The largest delegation
On June 20, 2018, the U.S. Department of Commerce held the fifth edition of its SelectUSA Investment Summit. The Summit is an ultra-high profile event designed to promote foreign direct investment in the United States and create jobs for U.S. citizens. This is the first time that Taiwan has had the largest delegation at the event. Not only did they have the highest number of participants, but also the quality of the members was the highest as well, consisting of key political and economic leaders.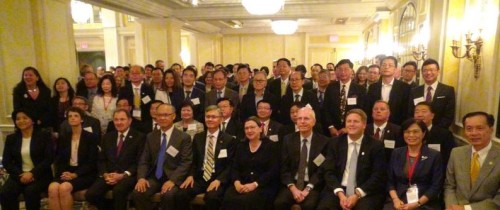 Dr. Jan revealed that representatives of the Taiwan government participating in the summit included ministerial officials, the  Director of the International Trade Bureau of the Ministry of Economic Affairs, Taiwanese regional economic officials based in the U.S., and Taiwanese senior executives of state-owned enterprises. At the Summit's welcoming reception, delegates from the U.S. Department of Commerce, the U.S. Deputy State Secretary, and 10 state governors exchanged their views with representatives from Taiwanese enterprises.
Strengthening ties through trade and military exchanges 
After the U.S. enactment of the Taiwan Travel Act and the U.S. Fiscal 2019 National Defense Authorization Act (NDAA), the exchange of official visits between Taiwan and the U.S. along with economic, trade, and military exchanges became more flexible.
One example is the U.S. government's investment of US$255 million in building the new American Institute in Taiwan (AIT), the de facto embassy complex in Taipei's Neihu District. It is now the most expensive American outpost in Asia and a symbol of a more stable relationship between Taiwan and the United States.
Business cooperation between Taiwan and the United States looks promising. Dr. Jan said that during the opening speech made by U.S. Secretary of Commerce Wilbur Ross, Ross complimented the Formosa Plastics Group of Taiwan for its US$9.4 billion investment in the state of Louisiana. Ross also referenced President Trump, Wisconsin Governor Scott Walker, and Foxconn founder Terry Gou, who jointly announced Foxconn's investment worth US$10 billion in the state of Wisconsin, and he mentioned the US$25 billion deal between Taiwan's Chinese Petroleum Corporation (CPC) and U.S. company Cheniere Energy, the latter of whom will supply liquefied natural gas to Taiwan over 25 years. Governor Walker noted that if all the planned investments materialize, they will generate US$7 billion annually for the state of Wisconsin. Dr. Jan pointed out that the planned investments and procurements by Formosa Plastics, Foxconn, and CPC can already be seen. Furthermore, he said that economic and trade relations with the United States are excellent, which will drive industry and supply chains, benefitting the middle and lower streams.
There is ongoing cooperation and investment between Taiwan and the U.S. defense industry, as well as military ties between the two nations. And Taiwan's largest state-owned aerospace firm, Aerospace Industrial Development Corporation (AIDC), also joined the Taiwan delegation for the summit.
Strengthening ties through legislation
Through the Taiwan Travel Act and the NDAA, the U.S. regulates the defense, arms sales, and exchanges of official visits between Taiwan and the U.S., and the terms favor Taiwan. Similar policies have been introduced by Mainland China that also benefit Taiwan. Dr. Jan said that the policies were enacted unilaterally, and since Taiwan has not jointly signed any of the regulations with the two countries, Taiwan can also unilaterally formulate special laws and regulations aimed toward deepening and strengthening relations with the United States.
Dr. Jan stated that in the business arena, the Taiwan government may consider enacting a special law to encourage Americans to visit Taiwan for investment and employment opportunities, and include legislation to attract small and medium-sized enterprises. The purpose would be to encourage Americans to see Taiwan as the place to live and work or to become permanent residents.
With regard to education exchanges, Dr. Jan said that Taiwan has several advantages. It has a democratic system of government with high levels of freedom and security for individuals. When coupled with a free academic atmosphere, professional academic standards, and a Chinese learning and cultural environment, this enables foreign students to connect and be in line with the Chinese economic and trade market, as well as to establish connections for making future business deals.
Dr. Jan went on to say that under the foundation of current laws and regulations, Taiwan can also take a step forward in the development of its education and property sectors. According to Dr. Jan's diagnosis of the education policy, the Taiwan government could open its borders to well-known U.S. universities, allowing them to set up branch campuses, or to form cooperative agreements with Taiwan's public and private universities. In addition to the dual university system, the U.S. may also consider the acquisition of Taiwan private schools or establish new schools to attract Asian students, including those from mainland China, to come to Taiwan to study, making Taiwan an international education center in Asia. Foreign students could also have the opportunity to enter Taiwan's multinational companies, such as Foxconn or Formosa Plastics, as trainees through internships or by direct employment that ultimately will attract outstanding talent.
Taiwan must seize the opportunity
As the world's state of affairs changes constantly, Taiwan has to reach out and grasp the opportunities presented in order to stabilize itself in the face of the recent U.S.-China trade conflict, which could have a negative impact on Taiwan's economy if not handled properly.
How should Taiwan respond to the challenge? Dr. Jan pointed out the world is now in an era of global trade. "Nations compete against and rely on one another — all engage in different tiers of the supply chain, as well as many kinds of markets. The links are interconnected. The conflicts between the two big countries will not only impact on Taiwan, but also the whole world, increasing the uncertainties of the economic environment tremendously."
Jan went on to say: "Taiwan has to be on the alert for any crisis. It should stay active by drafting solutions to different circumstances. Given that the present Sino-American relations are on the downside and Taiwan's relation with China is also sour, the room for growth of Taiwan's economic development is very limited. Unlike previously when Taiwan enjoyed a better relationship with China, its economy benefited from a great number of Japanese enterprises seeking joint ventures with Taiwanese companies to gain access into the China market. At that time, Sino-Japanese relations were not going well."
Dr. Jan expressed that both China and the U.S. were Taiwan's previous major trade partners. To achieve stable growth and keep good relationships, on top of perfecting related rules and regulations, Taiwan also needs to strengthen its bonds with China and the U.S. Taiwan needs to balance trade opportunities with both countries, keeping things consistent in order to take the middle way and not focus too much on one side, thereby missing the opportunities and markets of the other.
Dr. Jan continued: "In addition to setting up special rules and regulations to attract investments and talents and professionals from overseas, Taiwan should put political arguments aside and set up regulations tailored for China, Hong Kong, and Macau as well. By becoming a favorable place for investments, a place to do business, study, and work, Taiwan can establish itself as a vital player in the Greater China region economy. If Taiwan can maintain the trade standard and harmony with the U.S. and China, who are financial powers, and become the bridge between the two sides of their dispute, then just as we once served during the China-Japan political tug-of-war period, new opportunities and business will develop naturally for Taiwan."
The advantages of technology and talent
When talking about Taiwan's current economic advantages, Dr. Jan said: "It is technology and talent. Taiwan is small, but it is the world base for many world-class manufacturers, such as Hon Hai, TSMC, Formosa Plastics, and other high-tech manufacturers in Taiwan; many world-class technology giants, including Microsoft and Google, use Taiwan as a stronghold."
As proof, Microsoft signed a Letter of Intent with Taiwan's Ministry of Science and Technology last year and plans to make Taiwan the number one Artificial Intelligence Research and Development Center in Asia. Amazon contacted Taiwan's Ministry of Science and Technology in July this year with plans for an innovation research center. Google announced the launch of the "Google Wisdom Taiwan Program" in March of this year to facilitate the future development for international technology giants. There is a clear trend of technology giants finding their way to Taiwan.
Dr. Jan also reminded us that: "Taiwan's current energy policy is generally challenged. Reports are circulating about the power jump (stealing electricity) and even occasionally about limiting the amount of electricity used by enterprises, leading to uncertainty for companies. The government should strengthen the investment environment and infrastructure. That stability can attract more investment and development of domestic and foreign capital."
Dr. Jan went on to say that Taiwan's high level of talent and technology comes from its universal higher education, close international exchanges with universities around the world, and great effort in cultivating "international talents." However, the low starting salary for students after graduation results in a brain drain.
Dr. Jan added: "Many talents have flowed to mainland China or other countries and created a worry for Taiwan's economic and trade development. If the government can adopt the above suggestions, Taiwan can become a center of international education in Asia by cooperating with American universities or setting up schools, attracting a large number of students from mainland China and other countries. After graduation, these students can use the Asian countries, especially Taiwan, as their job markets and drive the Taiwanese economy. That way, the education industry in Taiwan can generate a large number of graduates every year, or solve the problem of long-term talent demand. Taiwan is small, but it stands between China and America, the world's two strongest nations. It has its special status and conditions for innovation to promote its own economic and trade culture, and also the future trade development between China and the United States."
Translated by Chua, Cecilia, and  Yi Ming
Edited by Helen
https://www.secretchina.com/news/b5/2018/08/15/867811.html
Follow us on Twitter or subscribe to our weekly email