Asian fusion cuisine combines a vast array of culinary traditions, and while not categorized according to any one particular style or region, it has played a major role in Asian cuisine offered in America since the early 20th century. Here is a timeline of those offerings.
The Tiki boom
It all started early in the 20th century when consumers in Los Angeles, tired of chop suey and egg foo young, demanded more exoticism on the menu at Chinese restaurants. The trend became more pronounced in the 1930s when restaurateur Donn Beach opened his Don the Beachcomber restaurant in Hollywood, which was soon followed by Victor Bergeron's Polynesian-themed Trader Vic's. Together, their restaurants kicked off the long-running "Tiki" boom by offering strong fruity drinks (both restaurants laid claim to the Mai Tai) and exotic fare, such as Polynesian rumaki and Burmese crab rangoon.
An Asia beyond China
The Tiki masks were put away as the Polynesian phase began to fade by the 1970s. In its place was a fresh wave of immigration from Asia, which brought a broader spectrum of regional foods. Vietnamese entrepreneurs, escaping the ravishes of war, established takeout ventures in the suburbs and on the outskirts of Chinatowns, while Sichuan and Thai restaurants redefined spiciness.
Sushi restaurants also took off in the early 1970s when restaurateur Ichiro Mashita introduced the California roll, which opened the door for Americans initially put off by raw fish. Another food that took hold at the time was teriyaki — a Hawaiian hybrid that used the sweet soy glaze favored by Japanese in unique ways.
French fusion chic
In the late 1980s, a new haute cuisine grew up from this convergence of Asian and European cultures in American cities. Chef Norman Van Aken borrowed the term fusion from jazz to describe the new experimental way of cooking, whether it included Asian flavors or not.
Chef Wolfgang Puck set the tone with his borrowings of Asian ingredients with French cooking techniques in California. His early menus included foie gras with pineapple, tempura tuna with uni sauce, and whole fried catfish with fried ginger.
Chef Jean-Georges Vongerichten made Southeast Asian flavors his focus by serving shrimp satay stuffed with coconut mousse and lobster-daikon rolls dipped in a rosemary ginger vinaigrette, while Nobu Matsuhisa, who had previously opened a Japanese restaurant in Peru, brought a Latin influence to his chain of Nobu restaurants.
Throughout he 1990s, more and more elements were being combined into single restaurant concepts and creating a big Asian-themed pot. This caught the attention of mass markets and sparked a new generation of fusion-themed cooking shows, such as Chef Ming Tsai's East Meets West.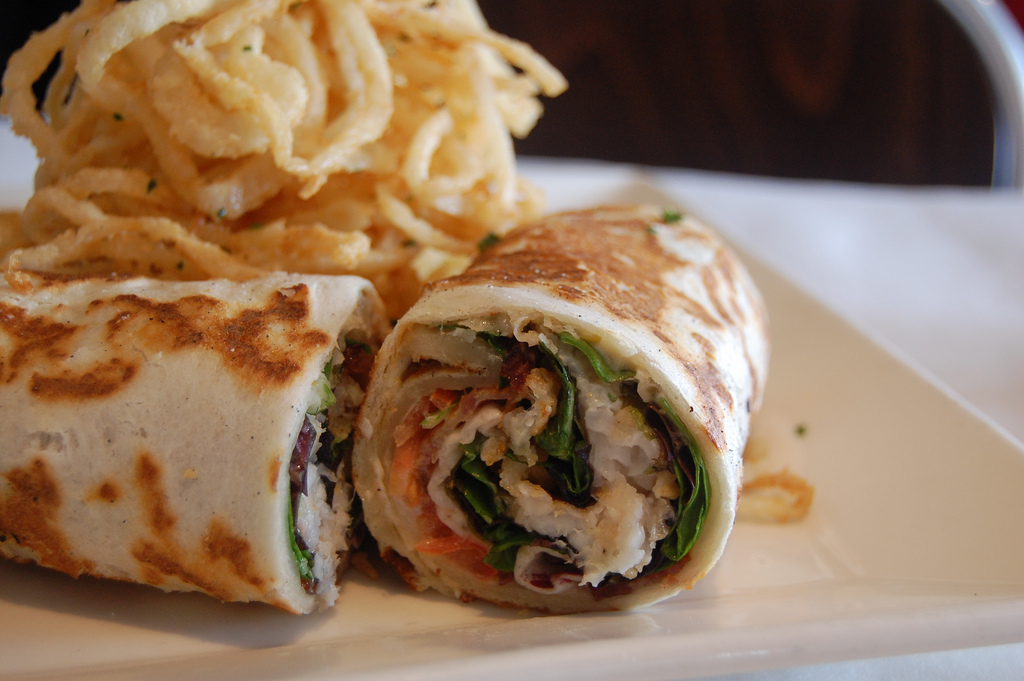 It's a wrap
Soon, the fusion trend spread to American fast food with the proliferation of wrap restaurants in Los Angeles, where customers could have the world's flavors from countries such as Thailand, Argentine, and the Caribbean, jammed and intermingled into a giant Mexican burrito. Only the revolution in availability of more diverse ingredients from around the world made it possible to mix and match elements in a foodie's kumbaya moment.
Enter David Chang
By the 21st century, American eaters celebrated the simpler pleasures of stripped-down, farm-to-table restaurants, and the hunt for a less manipulated source of Asian food in places such as sit down noodle bars. This time, it was David Chang, the Korean-American, who set the tone by opening a little ramen bar in New York City called Momofuku. His signature pork buns and noodle bowls made foodies see Asian influence in a brand-new way.
Food truck cuisine and street food
The Los Angeles food truck boom in the 2010s captured some of Chang's East Coast spirit with hybrid meals that reflected their cultural geography: kimchi quesadillas and tacos filled with Korean-inspired barbecue, kung pao pastrami, Mongolian beef cheek, and salt cod fried rice. This new breed of lunch wagons established a contemporary fusion that harkened back to the early 20th century when American's demanded more exoticism on every street corner.
The latest generation of fusion restaurateurs, many Asian American themselves, are offering "Americanized Oriental Food." This new brand of fusion incorporates America's discovery of Asian street food in places such as Flushing New York (which was helped along by food shows such as Anthony Bourdain: No Reservations) and a willingness by the chef to elaborate or adapt tradition.
No doubt the kind of hybrid cuisines Americans seek will soon change again, and a new trend in Asian fusion cuisine will emerge to satisfy their ever-evolving tastes.
Witten by David Clapp.
Follow us on Twitter or subscribe to our weekly email