Honey mixed with different ingredients commonly found in the kitchen is useful in relieving pain and improving your health. The following recipes are some examples.
1. Honey and ginger
Useful in relieving a sore throat and digestive issues.
To prepare:
1 tbsp freshly grated ginger
1 tbsp honey
1 cup hot water
1. Grate the ginger into a cup and pour hot boiling water/tea over it.
2. Let it steep for 5-10 minutes and then remove the ginger with a strainer.
3. Add honey when the drink has cooled down, but still warm.
2. Honey mixed with lemons
This delicious combination is a great pick-me-up after playing sports or even during. You can even add this delicious combination to a hot cup of tea anytime of day for added health benefits.
To prepare:
Slice the lemons, leaving the skin on. (the thinner, the better).
Put a layer of honey on the bottom of a container and then add lemons on top to cover, and then pour more honey on top of lemons. Continue to do this until all your lemons are covered with honey.
Allow to sit for at least one day.
3. Honey mixed with pears
Useful in relieving a cough, preventing headaches caused by drinking, and sobering up quickly.
To prepare:
Remove the skin and pit of the pear, and cook the pear with some water until it boils.
Put it aside and wait till it cools down.
Add honey into the water, and then drink the water and eat the pear.
4. Honey mixed with apple cider vinegar
This combination is useful in losing weight, soothing a sore throat, reducing nighttime leg cramps, and preventing indigestion if drunk before sleep.
To prepare:
2 cups of either hot or cold water
4 tbsp apple cider vinegar
¼ tsp honey
Add the apple cider vinegar to the water and then stir in the honey until dissolved. Adjust honey according to your own taste.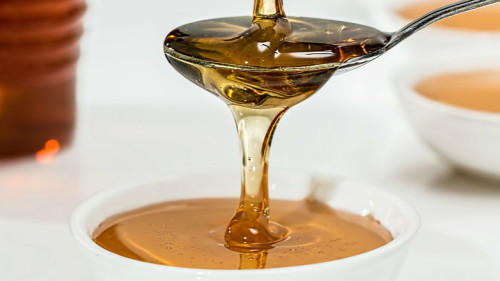 5. Honey mixed with green tea
If you like your green tea sweet, then add some honey. Not only will it taste better, but there are great health benefits. This combination keeps your bowels regular, helps reduce allergies, and helps soothe a sore throat.
To prepare:
Steep your green tea for 2 minutes and then stir in honey according to your taste.
6. Honey mixed with milk
This very different combination has some excellent health benefits, such as being useful in skin care, digestion, stamina, bone health, and insomnia.
To prepare:
Mix honey in milk until dissolved.
How to tell whether the honey is real
Insert a burning wire into the honey. If there is smoke and it smells like fruit, this is real honey. If the honey smells like something burned, there is sugar in it.
The writer of this story is not a medical professional, and the information that is in this story has been collected from reliable sources — every precaution has been taken to ensure its accuracy. The information provided is for general information purposes only, and should not be substituted for professional health care.
 Researched by Mona Song, translated by Audrey Wang
Like this article? Subscribe to our weekly email for more!