The Shen Yun Symphony Orchestra wrapped up its performance schedule in Taiwan on October 3 with 15 sold-out performances in 12 cities. The Shen Yun Symphony Orchestra is part of New York-based Shen Yun Performing Arts, which features classical Chinese dance grounded in 5,000 years of divinely inspired culture.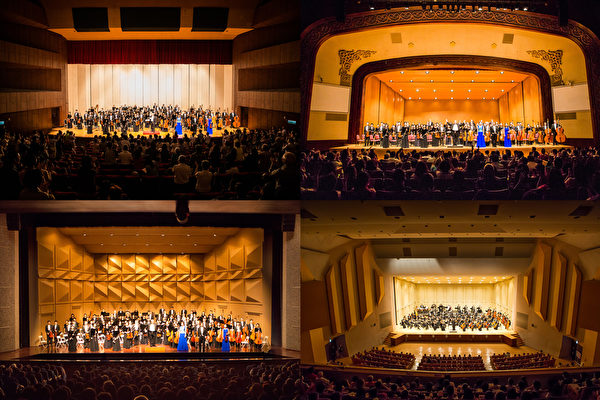 According to the Shen Yun website:
"Accentuating the beauty of ancient Chinese instruments amidst the grandeur of a Western symphony, the Shen Yun Symphony Orchestra draws on cherished ancient melodies and delightful musical styles to create a brand new, yet wonderfully familiar, experience."
Supported by the Taiwan Falun Dafa Association and the Divine Culture Foundation, the Shen Yun Symphony Orchestra's Taiwan tour was co-sponsored by the cultural affairs bureaus of the various cities that it visited and by other governmental and non-governmental organizations.
Commenting upon the performance, Dr. Chin-hwa Chang of the Graduate School of Journalism at National Taiwan University and chairperson of Taiwan Falun Dafa Association noted that:
"There are two major features that make Shen Yun's original music popular with people. For one thing, with the blending of traditional Chinese and Western musical instruments, the music played by the Shen Yun Orchestra can truly captivate audience members. For another, Shen Yun's music contains cultural implications that can enrich people's lives."
Shen Yun Symphony Orchestra has performed at many world-renowned venues, including New York's Carnegie Hall, The San Francisco War Memorial Opera House, The Los Angeles Dolby Theater, The London Royal Festival Hall, and The Vienna City Theater.
In addition to Shen Yun's original compositions, the orchestra also plays classical masterpieces by famous composers, such as Beethoven, Tchaikovsky, and Rimsky-Korsakov. Shen Yun Symphony Orchestra has been highly acclaimed by musicians and classical music aficionados alike.
"It's wonderful. Terrific! I enjoyed the music a lot," said Dr. Sunney Chan, after attending a performance on September 21. Dr. Chan is the former vice president of the acclaimed Academia Sinica, as well as a fellow at the American Academy of Arts and Sciences and the International Academy of Natural Sciences.
"To blend Eastern and Western instruments, there are some difficulties, but the composer overcame these," praised Dr. Liu Suan-yung, director of the National Taiwan Symphony Orchestra, after attending a performance on September 29. "I really admire the composer for his success in overcoming the difficulties and showing the different characteristics of Eastern and Western instruments."
"Such a wonderful performance is few and far between. I believe all audience members here today have the same feeling that I do," said Taiwanese legislator Ker Chien-ming, who was in attendance for a performance in Hsinchu City on September 19.
"This performance is not simply enjoyable, but it is a magnificent music feast. It's a great musical feast," said Taoyuan City Mayor Cheng Wen-tsan. "There are the pipa, violins, and also the erhu — they were combined very well."
Praising Shen Yun's seamless combination of classical Chinese and Western instruments, world-renowned Chinese violinist Cho-Liang Lin said:
"Whether in China, Taiwan, or elsewhere in the West, I have never seen an orchestra with such a perfect combination of Eastern and Western musical instruments. This form is the direction of art development."
The name "Shen Yun" translates into "the beauty of divine beings dancing." Shen Yun Symphony Orchestra has returned to the United States for its annual tour, with performances in New York, Boston, Washington D.C., Chicago, and Toronto.
Classical Chinese Music — Shen Yun Symphony Orchestra 2016 Trailer:
Follow us on Twitter or Subscribe to our weekly email