In 1929 at the age of 16, Qian Xiuling and her brother traveled from China to Belgium's University of Leuven, where she earned her Ph.D. in chemistry. Upon completing her studies, she and her husband moved to a small town called Herbeumont, situated about 100 miles from Brussels.
Little did she know that this town would become the setting for her extraordinary acts of courage and bravery.
It was because of the courageous acts that she would be awarded a medal, Hero of the State, for saving many lives.
The German occupation of Belgium began in 1940, with General Alexander von Falkenhausen being appointed as the German military governor to France and Belgium. General Falkenhausen had a predestined relationship with China, as he had served as Chiang's military adviser from 1934 to 1938, and he was a very close friend of Qian's cousin, General Qian Zhoulan.
In March 1943, the Gestapo arrested and were going to hang a young Belgium man named Roger for anti-war activities. Roger's parents and the townspeople wrote a letter to General Falkenhausen appealing for Roger's release. Qian and the mayor took the letter to him, and he agreed to intervene on Roger's behalf. The young man was spared, and he was instead sentenced to hard labor, a great relief to him and his family.
On 9 June 1944, three days after the Allies landed at Normandy, three Gestapo were killed in Herbeumont. In retaliation, the Gestapo took 97 young men as hostages, demanding that the killers be handed over within 36 hours.
The townspeople were desperate, and they turned to Qian for help. She went to see Falkenhausen once again with no hesitation. He was on the verge of being replaced; however, he agreed to save the young men as his last act as military governor. The 96 young men were all spared. He suffered serious consequences as a result of this decision—Falkenhausen was charged with disobeying orders and sent to a concentration camp. He survived his sentence, and was eventually freed when the Allies came to Germany.
Falkenhausen was the top war criminal to be extradited to Brussels for a military trial in the spring of 1948. Qian immediately came to his defense, telling the court: "During the war, I did some little things for Belgians that earned me a medal, but that was not the result of my personal efforts.  That came from General Alexander von Falkenhausen. He took great risk and made extreme efforts. Without his help, I could not have accomplished anything." Falkenhausen was acquitted three weeks into the trial due to the overwhelming evidence that he had saved the lives of many Jewish and Belgium people.
Undoubtedly, both Qian Xiuling and General Falkenhausen acted with tremendous courage in their pursuit of justice and conscience. The choices they made at critical moments ensured that their names will forever be engraved in the hearts and minds of the grateful Belgium people.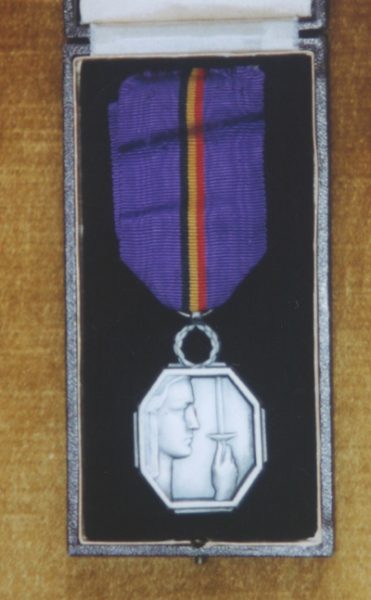 Translated research by Ying Ming and Kathy.