You might have seen quite a few Chinese knockoffs that are incredibly hilarious because "they are so not what they are trying to be."
Here comes another one.
On July 3, a Chinese animation movie 'The Autobots' was released. It's a direct rip-off of 'Cars.'
Check its official posters below. Do they look familiar to you?
Ripping off 'Cars'
Yep, it's the "Chinese version" of Pixar's Cars. No joking, some Chinese netizens said they thought it was Cars 3 at first sight, since the red vehicle looks so much like Lightning McQueen in Cars, and the other two resemble Sarge and Francesco Bernoulli, the Italian F1 car in the Pixar movie.
It's not just the similar character designs that confuse us, the Chinese name The Autobots is only one-character different than that of Cars.
Cars is known as 汽车总动员 (Qi Che Zong Dong Yuan) in China, while The Autobots is officially called 汽车人总动员 (Qi Che Ren Zong Dong Yuan). However, unless you look at the posters carefully, you won't even see '人 (Ren)', the only different character between the two names. Why? Because it's hidden behind the tire.
So here comes a question. Do the filmmakers want to confuse the audience on purpose?
I don't know about the answer, but many Chinese netizens got really mad because of the misleading name. I won't repeat all those harsh comments here, but here's something interesting: in Chinese, people say "见不得人 (Jiàn bù dé rén)" to describe someone who's done something shameful that he wants to hide from people. Some netizens joked that the hidden character of Ren (means 'people' in Chinese) in fact suggests the plagiarism in this movie is shameful and can't be exposed to people.
Check the picture below to see how much the two red cars look alike. Guess Lightning McQueen has a younger brother in China who even shares the same blue eyes.
Actually, a month ago, before The Autobots was on screen, it had been harshly criticized by Chinese netizens and reported by a Japanese TV show and some Western media.
When asked if they copied the Pixar movie, the spokesperson of The Autobots denied it, saying they've just "learned some things from Disney," and the story is different. "Because people also appear in the movie, it's different and not a rip-off," the spokesperson added.
However, what the spokesperson said couldn't change Chinese people's opinions on the movie. After release, the director wrote on his Weibo that the netizens' negative comments have hampered the box office results of The Autobots. Though the movie hasn't done well in pleasing the audience, it has become one of the hottest topics on Chinese social media.
When interviewed by Chinese media Sina, the movie's director, Zhuo Jianrong, said in an angry tone: "Why can't we name the movie 'Qi Che Ren Zong Dong Yuan'? We even want to call it 'Qi Che Zong Dong Yuan'! (that's the exact same name as Cars in Chinese) We are not violating any laws anyway."
Speaking of the plagiarism on the poster designs of Cars, Zhuo said: "This can only mean that our posters have a superstar face."
Initially, what Zhuo said didn't make sense to me, but when I saw the screenshots from The Autobots' trailer, I began to agree with him that he didn't copy the Pixar film, and the two movies are different. In my opinion, it's true that the two look different, but The Autobots' posters look different than the actual film scenes too.
Check out the image below and you'll see what I mean.
Poor graphic quality
I may sound sarcastic, but it did take me some time to recognize the three in the bottom picture are actually the same ones in the movie posters.
The quality of this animation is another thing getting Chinese netizens annoyed. One called Movie Fan said: "If you want to copy the movie, why didn't you copy it well? So you are using this 50-cent quality to fool kids and their parents? Shame on you!"
The Japanese TV show said some Twitter users compared the animation to "first gen PlayStation graphics."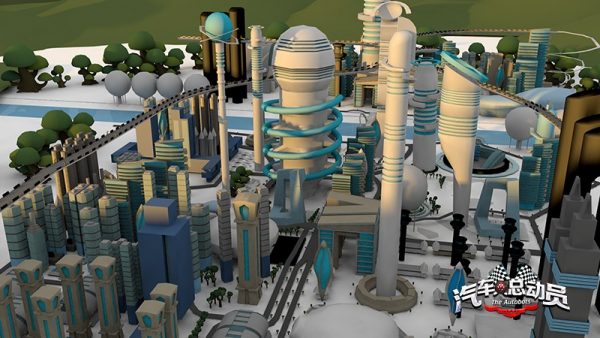 Netizens blaming SARFT
SARFT (State Administration of Press, Publication, Radio, Film and Television) is China's top regulator on media, and one of the agencies responsible for China's censorship. Because it strictly regulates T.V. and film content, quite a few popular T.V. programs from outside China are banned, such as Big Bang Theory.
For years, netizens have been questioning whether the so-called protection on domestic film and T.V. industry through restraining good foreign work coming into China makes sense. They also wonder what the standards SARFT use to make decisions for approval are, as they often seem bizarre.
After The Autobots was found to plagiarize Cars, a lot of Chinese netizens have questioned how SARFT could have approved this movie. A netizen said what SARFT did is encouraging unscrupulous standards. They're criticizing SARFT for lack of conscience, and asked how much money it took from the filmmakers to get it approved.
Click here to read more Entertainment stories, LIKE us on Facebook, or follow us on Twitter.