Did you know that Australia has 15 of the 20 most deadly animals in the world?!
Growing up in Australia, I have seen my fair share of dangerous things tourists do.
Like during box jellyfish season, a Japanese tourist was swimming in the ocean. We tried to explain to him not to swim and he just nodded and jumped back in. So we sat and watched him just in case.
And I grew up in Darwin, which is infested with crocodiles, and I cringe when I see people wading in the waters, especially when you hear about how many crocs they pull out each season.
The Australian Tourist Commission asked these guys to come up with a song that they could play overseas to help bring the tourists back to Australia. So they focused on the wonderful wildlife and the fabulous fauna Australia has to offer.
Redback spider
"A bite from the redback spider is very dangerous. The bite location can swell up quickly and it can be very painful. Most medical facilities have an antivenin that they can administer. If this is done fast, then the patient has a very good chance of a full recovery after such an incident," the spiders world website says.
Funnel-web spider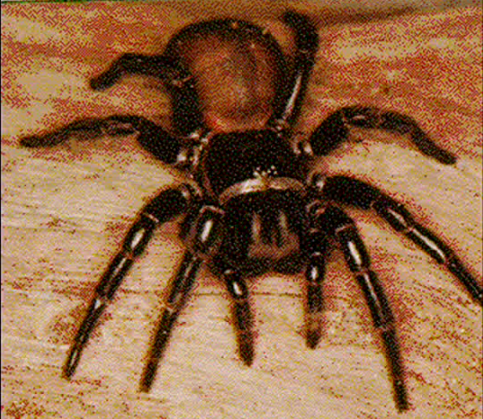 "Not all species are known to be dangerous, but several are renowned for their highly toxic and fast acting venom. The male of Atrax robustus, the Sydney funnel-web spider, is probably responsible for all recorded deaths (13) and many medically serious bites, " the Australian Museum website says.
Blue-ringed octopus
The emedicine website writes: "To avoid being bitten by a blue-ring octopus, never pick up or handle this marine animal, and when entering the ocean, shuffle your feet as you enter to avoid stepping on the octopus."
The blue-ringed octopus bite is highly poisonous to humans. Most bites cause minimal pain for the first 5-10 minutes, then begin to throb and may get numb and involve the rest of the arm (or extremity) bitten. Bleeding may be excessive. Numbness, nausea, vomiting, changes in vision, and difficulty swallowing.
"After approximately 10 minutes, the victim may have difficulty breathing, become paralyzed, and require artificial ventilation until they can be transported to a hospital. This is often preceded by numbness or loss of feeling around the lips and mouth. If medical care is not provided urgently, respiratory failure may occur, which may lead to cardiac arrest and death."
Taipan snake
"This snake only makes the top 10 because of its highly toxic venom, considered to be the most potent of any land snake in the world; it has the potential to kill an adult human within 45 minutes," writes the Australian Geographic website.
Tiger snake
"The snake's large size, often aggressive defense and toxic venom make it extremely dangerous to humans. The venom of the tiger snake is strongly neurotoxic and coagulant, and anyone suspected of being bitten should seek medical attention immediately," writes the Australian Museum on its website.
Box jellyfish
The Outback Australia Travel Guide website writes: "The Indo-Pacific or Australian box jellyfish (Chironex fleckeri) is claimed to be the most venomous marine animal known to mankind and its sting is often fatal. Stings of Chironex fleckeri have several very severe consequences, due to its cardiotoxic (effect on the heart), neurotoxic (damage to the nerves) and dermatonecrotic (effect on the skin) components.
"What does that mean? To start with it is not uncommon for victims who have had extensive contact (three meters of tentacles touching the skin can be enough to be fatal) to experience cardiac arrest within minutes.
"Even if that is not the case the pain from a sting is so excruciating and overwhelming that a victim can immediately go into shock, fatal if the victim is swimming alone. Someone stung while swimming will rarely be able to make it back to shore on their own.
"The tentacles stick tightly to the skin and may continue to release venom if not treated correctly, making things worse. Severe stings can lead to necrosis of the affected tissue (which means it gets eaten away…), which is where the nasty scars come from."
Stonefish
The Queensland Museum website writes: "The pain is immediate, excruciating and may last for many days. Muscular paralysis, breathing difficulties, shock, and sometimes heart failure and death can ensue.
"To prevent stonefish stings, sturdy footwear should be worn on reef flats, or while wading on soft-bottom substrates adjacent to rocky or weedy areas."
This video pretty much sums up what to expect when coming here.
I'm not sure if this will attract the tourists, but at least they know what they are in for!
Click here to read more Explore stories, LIKE us on Facebook, or follow us on Twitter.