Yes, this is a big deal. Not only have over 10,000 people filed lawsuits against China's former leader Jiang Zemin since May 2015, but millions more are planning to do so.
Firstly, it's a very new development that a person could actually file a criminal lawsuit against a Chinese Communist Party (CCP) leader and not be imprisoned or killed for it. President Xi Jinping is taking on the old leader and his cronies for corruption, and Falun Gong practitioners are using this chance to call for Jiang to be brought to justice, and an end to the decades-long persecution against them.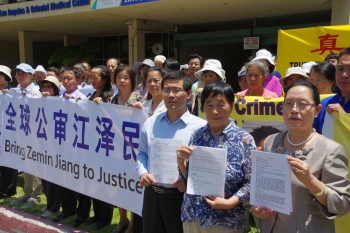 Background
The former leader outlawed the extremely popular qigong meditation practice in China in 1999, and gave orders to eradicate them from society. With approximately 100 million practitioners of the traditional spiritual practice, the Chinese Communist Party leader saw it as a threat to his absolute power.
They've been subject to brutal torture, imprisonment, labor camps, brainwashing, and finally, the most deeply disturbing—organ harvesting from the millions of Falun Dafa prisoners for the lucrative organ transplant system that was then set up in China—they're kept in prison as a live organ bank.
According to Epoch Times: "Two Canadian researchers estimate that 60,000 practitioners were killed for their organs between 2000 and 2008, while Ethan Gutmann, an author whose book The Slaughter focuses on the issue, said that harvesting continued until at least 2013.
Will suing work?
With well over 10,000 people and counting having filed lawsuits against Jiang Zemin in such a short time, this "Sue Jiang" movement is likely to get very big. Whether any steps will be taken by the procuratorate with these criminal cases against Jiang Zemin is unclear, and going by past history, they are just lucky they haven't been rounded up and thrown into prison cells. The last time someone tried to file a criminal suit against Jiang Zemin, he was tortured to death in prison.
What will happen is thousands more will file suits, perhaps millions if the sheer number of practitioners and their families that have been persecuted in China is taken into account. It is a grass roots movement that will draw attention to the persecution and show the current leaders that justice will be demanded for this genocide, and those responsible will need to be dealt with.
"Between June 19 and June 25, 2015, an astounding 13,109 practitioners and their families filed complaints against Jiang," according to Minghui.org, a website dedicated to reporting news on the persecution. They are mailing the individual cases to the Supreme People's Court and the Supreme People's Procuratorate, located in Beijing.
What specifically are they suing for?
"The allegations include torture, genocide, murder, extrajudicial killing, state-sanctioned organ harvesting and trafficking, rape, sexual abuse, forced labor, illegal arrest and detention, abuse of power, illegal deprivation of freedom of religion, theft and destruction of property," according to Minghui.org.
Zhong Weiguang, a scholar of totalitarianism based in Germany, told Epoch Times the campaign is similar to lawsuits against Nazi dictator Adolf Hitler.
Please like us on Facebook and follow us Twitter for more inspiring, important, and fascinating stories. Thank-you!
If you feel the story is important or special, please share it with your friends.